Dear Constituent,
Welcome to my latest email newsletter to provide you with some updates on what's been happening both in Parliament and around Amber Valley. Below you'll find an update on some of the things that have been progressing through the Houses in London as well as some of the local visits I've been on.
Illegal migration bill update:
The main piece of legislation that has been going through the House of Commons in the last few weeks is the Illegal Migration Bill. I've heard from a number of constituents with a diverse range of views on this topic. On the 26th of April the bill completed its remaining stages in the Commons and is now moving through the House of Lords, before it will return to the Commons for a final review.
This Bill is set to enhance the powers of the Government to tackle illegal migration, including the ability to remove illegal migrants from the UK to safe countries, new ways to determine ages of migrants without formal identification, additional protections for child migrants, and tougher sentences for those found guilty of people smuggling. The Bill was also amended during its remaining stages to include the Government's commitment to review the safe and legal routes that are available.
It is clear that we need an asylum system that does work for those families truly in need, but is also tough on those who are trying to exploit the process to gain entry to the UK and on human traffickers who are exploiting vulnerable people and worsening the crisis. The new bill tackles the latter problems, while leaving open safe and legal routes for those in need.
Sewage & storm overflows update:
Another key development in Parliament was new plans to further increase water quality targets and reduce sewage being released into our waterways.
The Government has announced its plan to enshrine the Storm Overflows Discharge Reduction Plan, published last August, into law through the Environment Act. This will make its target to reduce storm overflows legally binding. The Government's Storm Overflows Discharge Reduction Plan, published in August 2022, set out stringent targets to protect people and the environment and is backed up by up to £56 billion capital investment, which is the largest infrastructure programme in water company history.
Further, the Government is now consulting on proposals for unlimited fines to be imposed on water companies that break the rules. More than £142 million has already been levied in fines since 2015 and I am aware that money from fines and penalties will now be channelled back into the environment.
East Midlands APPG:
Outside the Chamber, the focus seemed to be local issues over the last few weeks, and we had another meeting of the All-Party Parliamentary Group on the East Midlands. This group brings together MPs from across the Chamber to discuss issues that are especially important to our region.
The most recent meeting was on the future of Infrastructure in the East Midlands. We heard from the East Midlands Chamber of Commerce and East Midlands Councils on infrastructure in our area and the need for infrastructure investment to fulfil our environmental commitments, to make it easier for people living here to travel and get to work, and to encourage businesses to move here.
Moving forward, we will continue to push for our region to receive funding in the future, by collecting evidence on the wider benefits of infrastructure projects to the local economy and local businesses and use this in future proposals for funding.
Ferrero sustainable palm oil event:
I was also able to welcome Ferrero, who own the Thornton's factory in Somercotes, to Parliament. They hosted an event alongside Chester Zoo and the Orangutan Land Trust on Sustainable Palm Oil, where they discussed the damage palm oil farming has inflicted on jungles and local habitats of orangutans around the world. While many food producers have moved away from palm oil for these reasons, the same problems of deforestation and habitat destruction continue to persist regardless of the plant used.
Because of this, Ferrero highlighted the use of certified sustainable palm-oil to that avoids these poor practices by working with local wildlife experts, stopping further deforestation for farming land, and reducing the impact on the environment.
It was great to hear from a business that operates locally in our area that is tackling global issues and to talk to the charitable organisations that were supporting these efforts.
Amber Valley Borough Council elections 4th May 2023 & Parish/Town Council elections:
On the 4th May 2023, elections were held for Amber Valley Borough Council. For the first time in a long time, elections were held for all 42 councillors over 18 wards (rather than the previous recent system of electing a third of councillors each year).
As a result of the election, the Labour Group took control of the Council and have 26 councillors.
Congratulations to all who were elected and I look forward to working with the new Borough Council where needed and holding them to account where necessary too.
You can find your borough councillor here.
All the parish and town councils in Amber Valley were also up for election. You can find the results of these here.
Access to Cash – Nationwide Heanor:
I know for many constituents a key concern has been the closures of bank branches in our area.
Although banking is increasingly moving online, in-person branches are still relied upon by many in our communities and are staples in our high streets. People need access to bank branches so that they can speak to someone in person about their accounts and finances.
I was able to visit Nationwide in Heanor to discuss this issue and was reassured that they understood the important role they play on our high streets and intend to stay open for the foreseeable future.
I was also able to discuss the work they are doing to help vulnerable people more broadly, including their cost-of-living helpline, fraud prevention and work to teach useful financial skills to young people.
I'll continue to support maintaining access to bank branches and cash in our communities and town centres.
Christopher Nieper Foundation visit:
In Alfreton I joined Robert Halfon, the Minister for Skills, Apprenticeships and Higher Education, in a visit related to the Christopher Nieper Education Trust. The Trust was set up to allow David Nieper Ltd to invest in local education and help young people into long-term, rewarding employment.
We visited David Nieper Ltd and met with Dr Hobbs, the Headteacher of David Nieper Academy, others who are supporting the work of the Trust and met with a student to do an interview for the Spirit of Alfreton.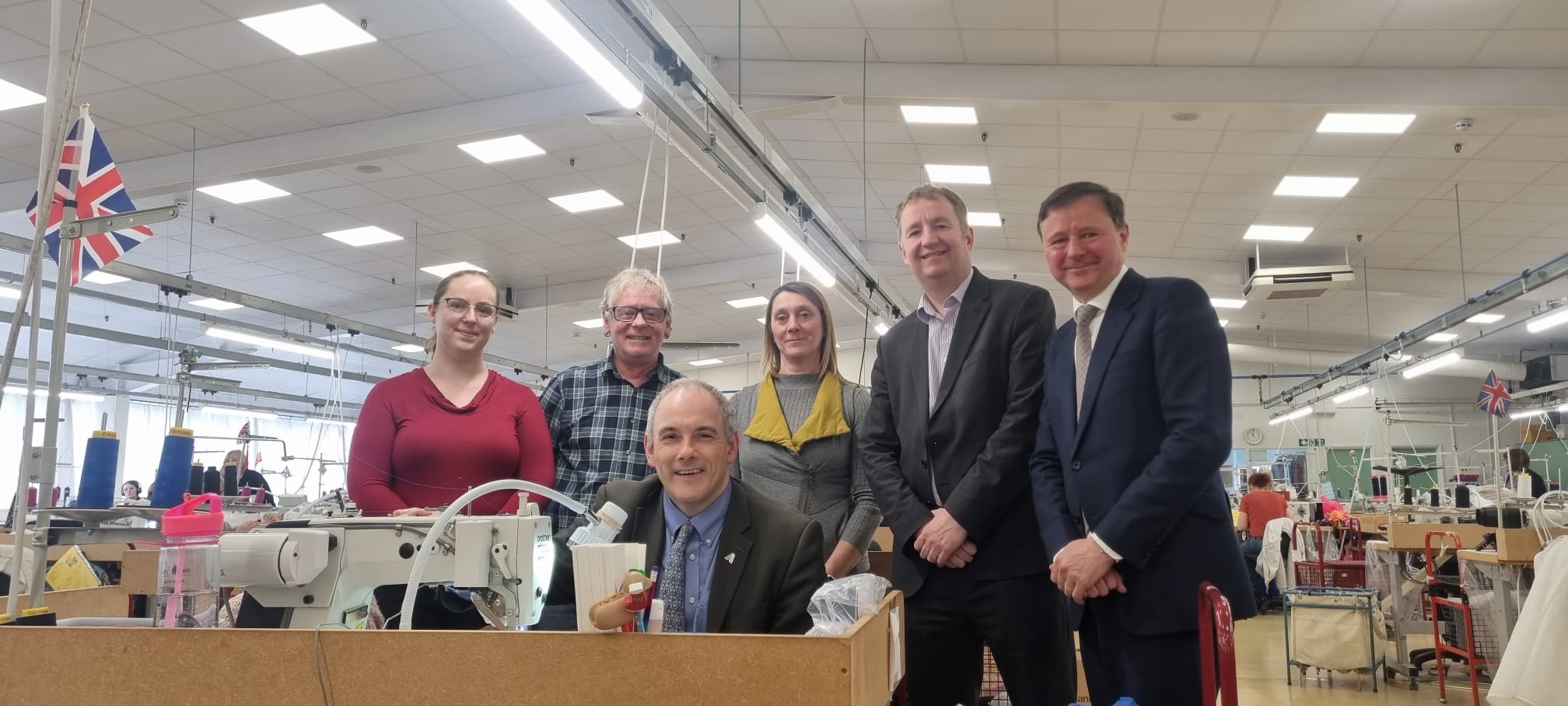 Local primary school visits:
I have also able to visit both Mundy Junior School and Heage Primary School to speak to teachers and school leaders about funding.
With schools also being hit with high energy bills, there was concern that planned increases to teacher's salaries and additional provisions for students would not be fully funded if prices for heating stay high. I was able to talk to teachers about the worry this is causing.
It is only right that any increases to staff pay are properly covered by increased investment into schools and it is important that the Government has contingency plans and funding in place to reassure schools that they will be supported should energy bills stay high.
Windows for Ukraine:
I also took part in a visit to CPR Manufacturing in Alfreton, who are supporting a project called Windows for Ukraine. Cromwell Polythene is manufacturing polyethylene film used to make effective temporary windows as part of a project called Insulate Ukraine. The company have donated some of the film being used, which is an alternative to glass and insulates homes better than double-glazing. The local business usually manufactures bin liner products.
Collis engineering visit & 5G masts:
To look at their new 5G masts I've also been to see Collis Engineering Ltd. They're manufacturing a new mast and tower system to support the rollout of 5G and which has a high headload capacity, meaning several operators can share the same structure and system. Collis are an important local employer and it was good to learn more about this innovation that is being manufactured right here in the heart of Amber Valley.
I know that access to telephone and broadband signal remains an issue for many residents, so hopefully this innovation will help with that, and I'll continue to pursue solutions for areas where there are concerns or problems.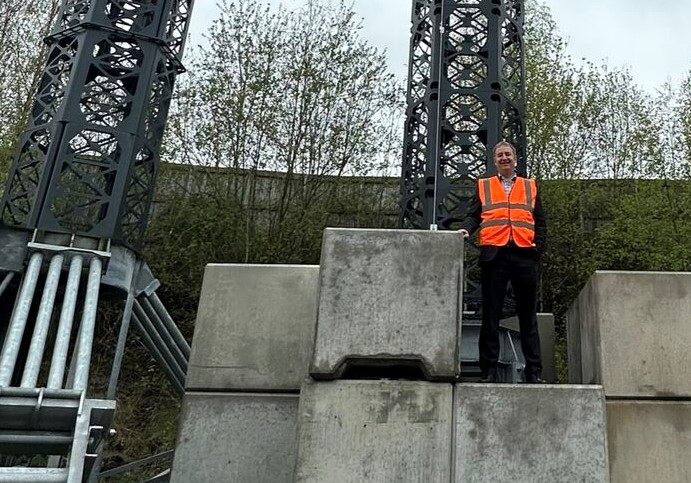 Street Watch:
As always, if there are any street repairs in your area, such as potholes, pavement repairs or broken street lights, you can report these issues and concerns to me quickly and easily here so I can ask for the repairs to be investigated and addressed.
GDPR and privacy notice:
Data laws changed with the introduction of the new GDPR legislation: you can find my office's privacy policy here and, if you don't want to receive these emails anymore, you can unsubscribe here.
Get in Touch!
As always, you can contact me by hitting the 'reply' button on this email, or you can ring my office on 01773 744341.
Twitter and Facebook
You can also follow me on Twitter @NigelMills and like me on Facebook here to stay up to date with news and events in Amber Valley throughout the month.
Yours sincerely,
Nigel
Promoted by Nigel Mills MP, of Unicorn House, Wellington Street, Ripley, Derbyshire, DE5 3EH.