Dear Constituent,
Budget Special Newsletter:
Earlier this week I was in the House of Commons to hear the Chancellor of the Exchequer's Spring Budget. You can watch my speech in response here. Following the financial turmoil last Autumn this wasn't expected to be a dramatic budget, but the improving position of the economy enabled the Chancellor to make some significant announcements.
The good economic news was that we are no longer forecast to enter recession this year and inflation is forecast to be below 3% by Christmas, a significant reduction on the current position of over 10% and a sign that the tough measures taken to stabilise the economy are working.
I welcome the focus of the Spring Budget on the everyday costs of average working families and support for services and businesses which are central to our communities. I am also pleased that much of this support will be going towards families and individuals here in Amber Valley, saving them money on their bills, fuel prices, childcare and allowing them to benefit from broader economic investment and growth.
The main announcements were:
Extending Energy Bills Support:
The Energy Price Guarantee, which has capped energy bills for households across the UK at an average of £2,500 a year will be extended for 3 months to the end of June 2023 saving the average household £160. Bills are forecast to fall below this level from July. In my speech following the Budget I urged the Chancellor to extend this to next March in the event prices don't fall as expected so we all have certainty over what we will pay next winter.
Additionally, houses on prepayments meters are set to see an even greater benefit, as the Government is ending Prepayment Meter premium, ensuring that the prices these customers pay are in line with those on direct debit schemes. Forced prepayment meter installations are also suspended, ensuring those struggling to pay are not being taken advantage of by energy companies.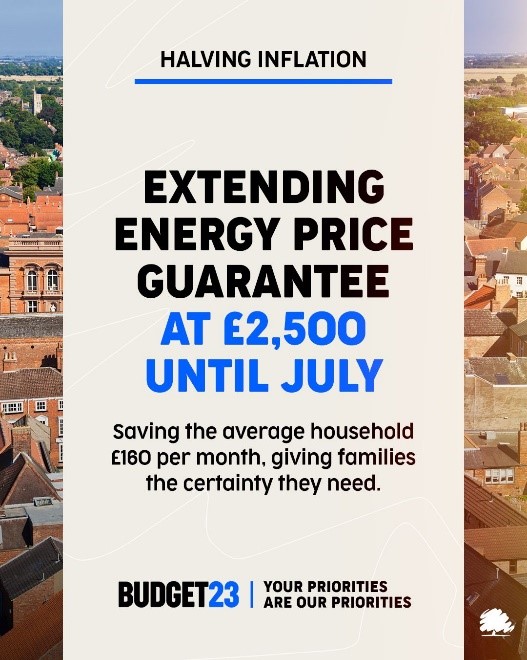 Fuel Duty frozen:
The freeze on Fuel Duty is also set to be extended for 2023, cancelling the planned 11p rise. The Government will also be maintaining the 5p cut on fuel duty for a further 12 months. While prices have fallen back from the peak, they are still high and freezing the duty will save motorists up to £200 this year. I know this will be welcomed by all those of you who have recently written to me in favour of keeping fuel duty frozen.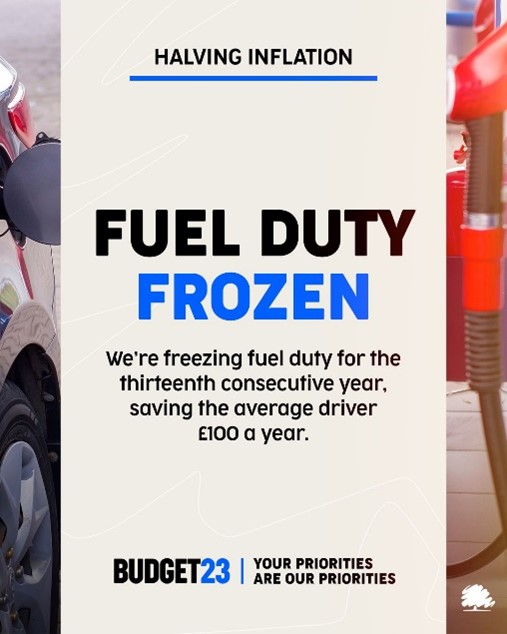 Making childcare more affordable:
I know only too well how large a burden the cost of childcare for under 3s is, in many cases making working impossible. Parents also have challenges in Amber Valley finding places.
The Spring Budget includes a number of reforms to reduce childcare costs for working families, allowing parents to return to work should they wish. Free childcare is being extended to young families with children between 9 months and 3 years (from when 30 hours free is currently provided). Families where all adults work over 16 hours a week will be entitled to up to 30 hours of free childcare – this is being phased in from next Spring to ensure sufficient spaces are available.
For those on Universal Credit who wish to return to work, we are increasing the maximum claim limits up to £951 for one child and £1,630 for two children and allowing parents to be paid upfront rather than having to pay the cost themselves first.
In order to boost the number of childminders and increase the provision of childcare services, the Government is introducing an incentive of £600 for new child-minders and up to £1200 for those who join the profession through an agency. An additional £204 million is also being provided to fund nurseries which are offering free childcare hours.
And finally, we are increasing funding so primary schools can provide wrap around childcare between 8am and 6pm.
I welcome this support being given to young working families and am pleased that these policies have been introduced following recommendations by myself and my colleagues on the Work and Pensions Select Committee in a recent report.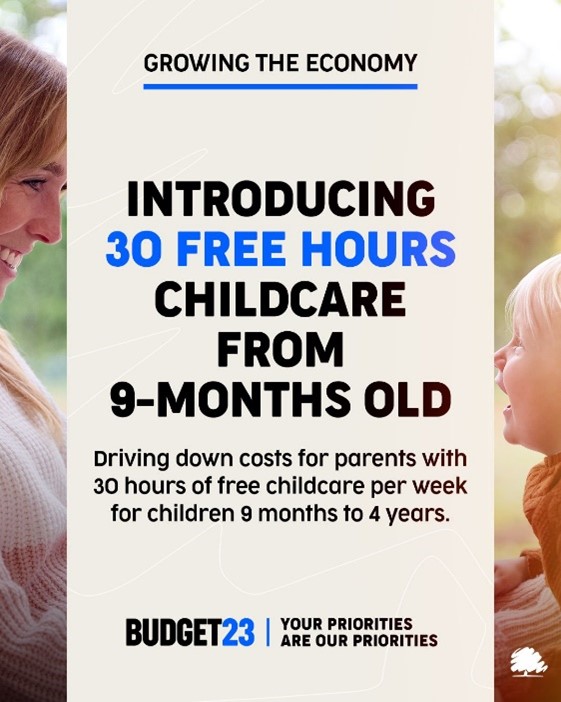 Supporting our pubs:
Pubs in Amber Valley will also benefit from the Budget, helping these establishments continue to play an important role in our town centres and our communities. While the new Alcohol Duty rates will be introduced for alcoholic drinks in supermarkets in August, pubs will be able to keep their prices down due to Draught Relief being raised from 5% to 9.2%.
This means that the price of an average draught pint of beer served in a pub will not increase from August and will be up to 11 pence lower than in supermarkets.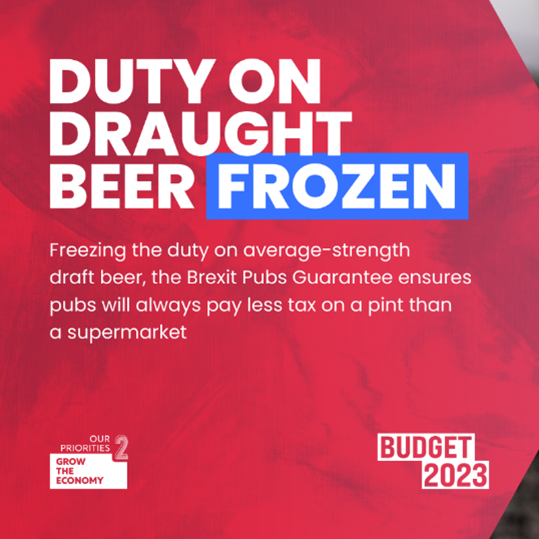 Fixing potholes in Derbyshire:
Many residents of Amber Valley will also be pleased to hear that there will be an expansion of the funding being assigned to fix potholes. The Government is allocating an additional £200 million to fix potholes, which is the equivalent of 4 million potholes being fixed across the UK. Derbyshire's share of this is £4.2m.
If you know of any potholes that need fixing, please send me an email via my Street Watch reporting below and we'll report them to the Council.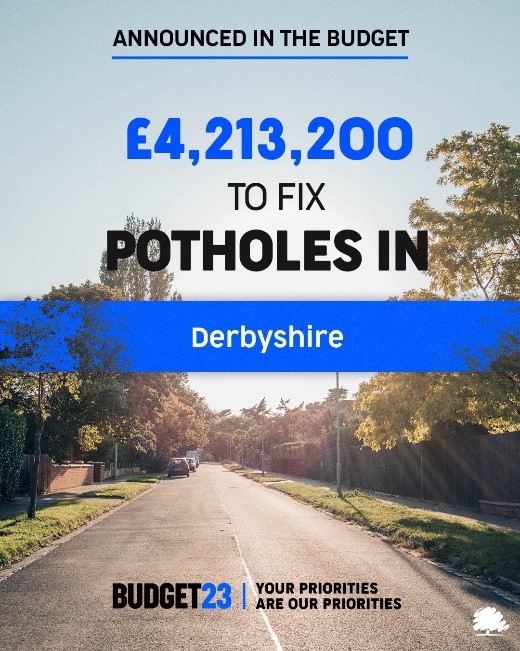 Supporting leisure centres & keeping pools warm:
We are lucky enough to have 3 leisure centres here in Amber Valley, and I welcome the support being given to help them keep their heating costs down and continue to provide fun healthy activities and spaces for everyone in Amber Valley. The Government has announced it is allocated £63 million to a support fund for leisure centres to access, in order to help them keep our pools warm and pay their energy bills.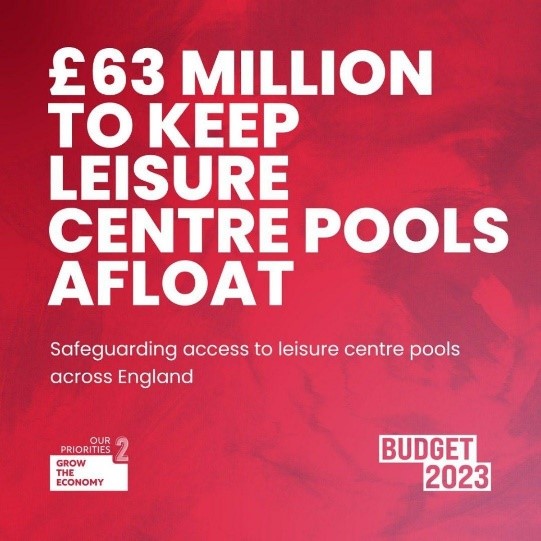 Universal Support Scheme:
I am pleased that reforms are being introduced to separate benefits entitlement from ability to work for those on disability support. Too long this has stopped those on disability benefits from working, for fear of losing financial support. The Government wants to help those who wish to work but are held back by their disability. To do this they are providing Universal Support up to £4000 per person to help these individuals find jobs and make the necessary adjustments to allow them to enter the workforce.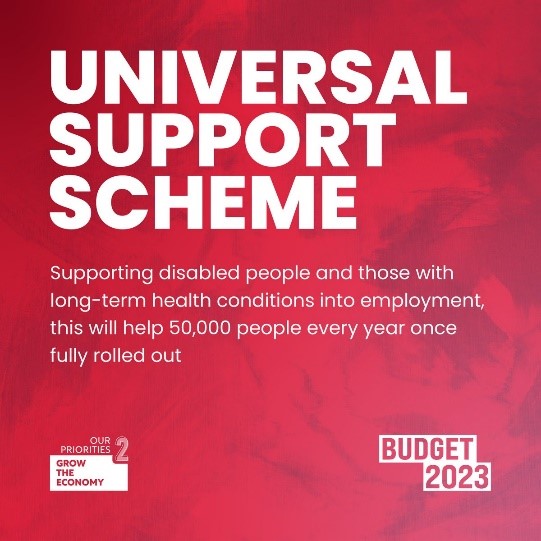 Street Watch:
As always, if there are any street repairs in your area, such as potholes, pavement repairs or broken street lights, you can report these issues and concerns to me quickly and easily here so I can ask for the repairs to be investigated and addressed.
GDPR and privacy notice:
Data laws changed with the introduction of the new GDPR legislation: you can find my office's privacy policy here and, if you don't want to receive these emails anymore, you can unsubscribe here.
Get in Touch!
As always, you can contact me by hitting the 'reply' button on this email, or you can ring my office on 01773 744341.
Twitter and Facebook
You can also follow me on Twitter @NigelMills and like me on Facebook here to stay up to date with news and events in Amber Valley throughout the month.
Yours sincerely,
Nigel
Promoted by Nigel Mills MP, of Unicorn House, Wellington Street, Ripley, Derbyshire, DE5 3EH.
You're receiving this newsletter because you subscribed to my mailing list.
Would you like to unsubscribe? Unsubscribe from this Newsletter here.